GAY BANGKOK
What's it really like?
Bangkok's LGBTQ+ Community and Culture
Bangkok's LGBTQ+ community is diverse, vibrant, and celebrated. The city is home to a large population of LGBTQ+ individuals who have played a significant role in shaping its culture and nightlife. The local community has created safe spaces and supportive environments where everyone can express themselves freely. The city's inclusive atmosphere has resulted in the establishment of various LGBTQ+-friendly organizations, advocacy groups, and events that further promote acceptance and equality.
LGBTQ+-Friendly Accommodations
Bangkok offers a wide range of LGBTQ+-friendly accommodations, ensuring that travelers feel welcome and comfortable throughout their stay. Many hotels, guesthouses, and resorts in the city proudly display their support for the LGBTQ+ community. These establishments provide inclusive services, knowledgeable staff, and a safe environment for LGBTQ+ travelers. Staying in one of these LGBTQ+-friendly accommodations enhances the overall experience and allows visitors to fully embrace the vibrant spirit of the city.
LGBTQ+-Friendly Attractions and Activities
Beyond the nightlife and events, Bangkok offers a plethora of LGBTQ+-friendly attractions and activities for travelers to enjoy. The city is dotted with vibrant markets, bustling shopping districts, and world-class restaurants that cater to diverse tastes. Additionally, Bangkok is home to a thriving art scene, with numerous galleries and exhibitions showcasing the work of LGBTQ+ artists. Visitors can also explore historic landmarks, take part in cooking classes, or indulge in rejuvenating spa experiences, making Bangkok an all-encompassing destination for LGBTQ+ travelers.
Bangkok, the bustling capital city of Thailand, is known for its vibrant culture, rich history, and bustling nightlife. In recent years, it has also emerged as one of the most popular destinations for LGBTQ+ travelers. With its welcoming atmosphere, diverse community, and a wide range of LGBTQ+-friendly venues, Bangkok has become a hub for queer culture and an exciting hotspot for LGBTQ+ tourists from around the world. In this blog post, we will take you on an excursion through gay Bangkok, exploring the city's vibrant LGBTQ+ scene, highlighting its inclusive spaces, and showcasing the events and attractions that make it a must-visit destination for LGBTQ+ travelers.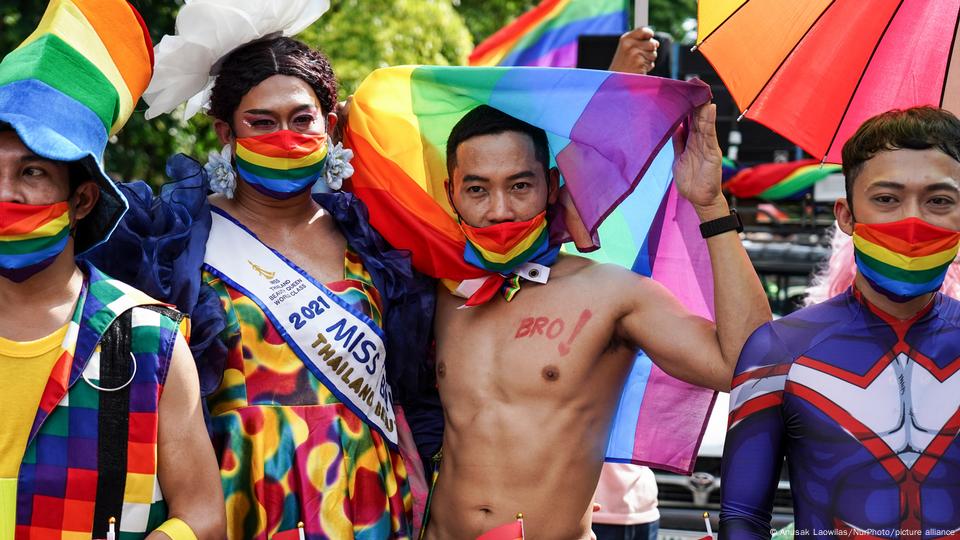 LGBTQ+ Nightlife in Bangkok
When the sun sets, Bangkok's LGBTQ+ nightlife scene comes alive with energy, excitement, and a plethora of venues catering to different tastes and preferences. Silom Soi 4 and Soi 2, located in the heart of the city, are known as the epicenter of gay nightlife in Bangkok. These vibrant streets are lined with numerous gay bars, clubs, and restaurants where locals and tourists gather to socialize, enjoy performances, and dance the night away. From trendy cocktail bars to lively dance clubs, Bangkok offers a diverse range of options to suit every individual's preferences.
Pride Festivals and LGBTQ+ Events
Bangkok is renowned for its vibrant Pride festivals and LGBTQ+ events. The Bangkok Pride Parade, held annually in November, is a colorful extravaganza that brings together people from all walks of life to celebrate love, diversity, and equality. The parade features spectacular floats, lively performances, and a sense of unity that resonates throughout the city. In addition to Pride, Bangkok hosts a variety of LGBTQ+-themed events throughout the year, including film festivals, art exhibitions, and drag shows, showcasing the city's commitment to LGBTQ+ rights and inclusion.

Bangkok's LGBTQ+ scene is a vibrant and inclusive community that embraces diversity and celebrates individual
Bangkok, the capital of Thailand, has a vibrant and accepting LGBTQ+ culture, with a thriving gay scene. There are several gay-friendly areas in Bangkok, such as Silom, which is known for its many gay bars and clubs, and Sathorn, which has a more upscale atmosphere.
Some of the popular gay bars and clubs in Bangkok include DJ Station, which is one of the biggest gay clubs in Southeast Asia, and Babylon Sauna, a popular gay sauna and spa. There are also several gay-friendly hotels in Bangkok, such as The Babylon Bangkok and The Sukhothai Bangkok.
Aside from the nightlife, Bangkok also offers plenty of cultural attractions, such as the Grand Palace, Wat Phra Kaew, and Wat Arun. Shopping and dining are also popular activities in Bangkok, with plenty of markets, shopping centers, and street food stalls to explore.
As with any travel destination, it's important to do your own research and take necessary precautions to ensure a safe and enjoyable trip. It's also important to be respectful of local customs and laws, particularly in regards to public displays of affection.
Without a doubt, most of gay Bangkok's action occurs around Silom Soi 2 and Silom Soi 4. Busy every night of the week, Silom Soi 4, Bangkok's gay bar street with the iconic Telephone and Balcony Bars. Offering cheap drinks with a street view, Silom Soi 4 is the ideal spot for pre-party drinks. Only a couple hundred meters away is Silom Soi 2 is gay Bangkok's clubbing central and home to the famous DJ Station, Bangkok's biggest gay club.
Bangkok has a lively gay scene with many bars and clubs catering to the LGBTQ+ community. Here are some of the most popular gay bars and clubs in Bangkok:
DJ Station – This is one of the most famous gay clubs in Bangkok and is located in Silom. It's a three-story club with different themes on each floor, playing a variety of music genres.
Silom Soi 4 – This is a small street in Silom that has a cluster of gay bars and restaurants. It's a popular spot for pre-drinks before heading to DJ Station.
Telephone Pub & Restaurant – This is a gay-friendly bar located in Silom. It's a popular spot for locals and tourists alike and has a laid-back atmosphere.
Stranger Bar – This is a popular gay bar in Silom that hosts drag shows and other events. It has a fun and welcoming atmosphere, with a mix of locals and tourists.
G Bangkok – This is a gay sauna located in Sathorn. It has a gym, steam room, and private cabins. It's a popular spot for locals and tourists looking to relax and meet new people.
Maggie Choo's – This is a speakeasy-style bar located in Silom. It's not a gay bar, but it's known for its LGBTQ+ friendly atmosphere and hosts drag shows on occasion.
These are just a few examples of the many gay bars and clubs in Bangkok. It's always a good idea to do some research and check out reviews before heading out to ensure that you find the right spot for you.
Gay Bangkok is home to many saunas. Bangkok's gay sauna scene is diverse and spread out over the city. The most popular saunas in Bangkok include Babylon Sauna, R3 Sauna, and Chakran Sauna. Babylon Sauna is often rated as one of the best gay saunas in Asia.
Most gay travelers choose to stay in Silom and Sathorn as its central and home to Bangkok's main gay nightlife. In Silom or across Bangkok, you will find hotels to match every budget and taste from bargain hostels to rooftop pools and luxurious suites.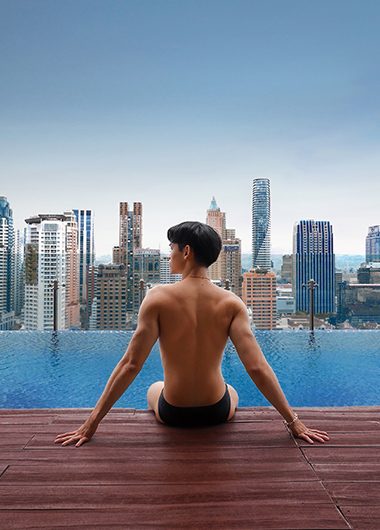 Gays and the Law
In terms of public tolerance and acceptance of homosexuality, Thailand is one of the most welcoming countries across Asia. As with many countries, acceptance of LGBT individuals is more widespread in urban areas, such as Bangkok.
As a whole, Thai people value discretion and non-confrontation, so no one should give you any hassle for being seen together. That said, public displays of affection – both straight and gay – are frowned upon.
Male and female same-sex activity is legal in Thailand however gay marriage is not legal yet. Bangkok Post reports that "…while Thailand is viewed as a tourist haven for same-sex couples, the reality for locals is that the law, and often public sentiment, is not so liberal." LGBT residents of Thailand and Bangkok are not offered equal legal protections offered to non-LGBT (straight) people.
Get Tested
It's simple and easy to get tested in Bangkok. Local Health Initiative TestBKK offers great up-to-date information on where, when, and how much it will cost to get tested.
The Thai Red Cross Clinic in Silom is the easiest place for tourists and non-Thai individuals to get tested. Testing here is affordable (not more than $10 USD), and quick HIV results are returned in under 1 hour. English is spoken through the clinic, and results are kept confidential.
HIV infection rate among gay men living in Bangkok is as high as 24%. This means nearly 1 in 4 gay men in Bangkok are living with HIV. Condom and lube are widely available across Thailand and Bangkok, with all 7 Elevens and supermarkets stocking them.
For more information, check out TestBKK.org.
Getting Around
Getting around Bangkok can be difficult. Often it's too hot for walking long distances, traffic jams are common, especially during the city's long rush hours (7 am – 9 am) and (5 pm – 8 pm).
Taxi – are always available and are cheap. In Thailand, taxis display a red light in the front windscreen when they are available for hire. Local tip – flag down moving taxis, and if the destination is rejected, don't try a fixed rate, move onto the next taxi. Grab (South East Asia's Uber) operates in Bangkok.
Airport – There is a train link to the city however its city terminal is not in a convenient location. For a hassle-free relaxing journey, travel by taxi or airport limo. Use the official taxi rank to avoid problems. Passengers pay airport pick-up fee and highway tolls. Airport Limos are only 1,000 THB ($28 USD) and can be booked in advance.
BTS Skytrain – Fast and convenient, this is a great way to explore the city. Local tip – If you plan on spending a couple or more days in Bangkok get a Rabbit Card to save time and money.
MRT (Mass Rapid Transit) – Bangkok's underground. Note, BTS and MRT use different tickets, Rabbit cards don't work on the MRT.
Tuk-Tuk – Iconic Bangkok fun. Agree on the price before the journey. Surprisingly metered taxis usually work out cheaper and are a lot safer.
Motorcycle – Great for short, exciting journeys. Like Tuk-Tuk's, agree on the price before you set off and ask the driver for a helmet.
Bus – while there is a large bus network, the whole network is not tourist-friendly as there are no translated bus maps and most drivers lack English.
Spread the loveAs the world becomes more understanding and accepting of diverse sexual orientations, it's crucial to equip ourselves with knowledge that can enrich our travel experiences and ensure everyone feels safe, respected, and comfortable, no matter where they go. This is particularly vital for those who identify as LGBT—people who, too often, face judgment…

Spread the loveThe passion for wanderlust transcends boundaries and genders—it is a universal inclination that calls to every individual, irrespective of their sexual orientation. In the realm of backpacking, the quest for liberty, adventure, and cultural immersion knows no divisions. However, for an LGBT backpacker, traveling encompasses considering not only the conventional aspects like affordability…

Spread the loveIn a diverse world brimming with culture, art, and life, finding spots where one can fully be themselves is a crucial part of the journey for many, especially for those in the LGBT community. While every city offers its unique charm, certain places stand out for their vibrant, inclusive atmosphere and protections for…
Facebook Comments