What's it really like?
Welcome to Benidorm, the picturesque coastal city on Spain's Costa Blanca. Renowned for its stunning beaches, vibrant nightlife, and welcoming atmosphere, Benidorm has also earned a well-deserved reputation as a thriving LGBTQ+ destination. In this comprehensive travel guide, we will take you on a journey to explore the gay-friendly side of Benidorm, sharing everything you need to know to plan an unforgettable visit. From fabulous nightlife venues to cultural attractions and pride events, let's dive into the colorful world of Gay Benidorm!
A Welcoming Destination:
Benidorm is a welcoming and inclusive destination, making it an ideal choice for LGBTQ+ travelers. The city embraces diversity with open arms, providing a warm and accepting atmosphere for everyone. With its friendly locals, inclusive establishments, and numerous LGBTQ+ events, Benidorm truly stands out as a top destination for gay travelers from around the world.
Beaches and Sun:
When it comes to beaches, Benidorm offers an array of options. The gay-friendly beaches, Levante and Poniente, are particularly popular among LGBTQ+ visitors. These stunning beaches provide a relaxed and welcoming environment where you can soak up the sun, take refreshing dips in the Mediterranean Sea, and connect with like-minded individuals. Among Spain's many coastal resorts, Benidorm is a rare thing: as popular with British and European tourists as it is with Spaniards looking for a relaxed time in the sun, it manages to preserve a surprising amount of local charm alongside the hotel blocks and the shot bars. If you're from the UK, you probably know Benidorm from the ever-popular TV show of the same name, which depicts the town as a destination for boozy Brits who want to party all night and wake up the following morning to a full English breakfast in their all-inclusive hotel. This type of tourism is very much a part of Benidorm, and this is a great place to come if that's exactly the type of thing you're looking for.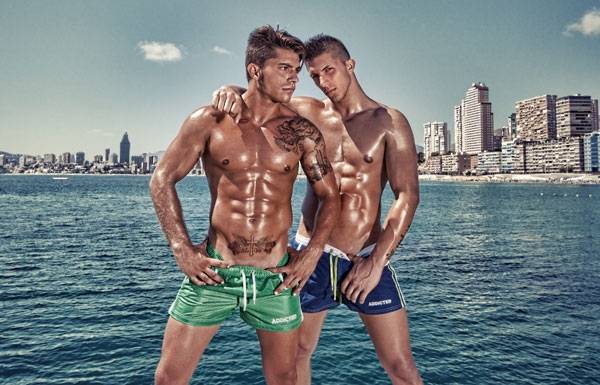 Lively Nightlife:
As the sun sets, Benidorm comes alive with its vibrant nightlife scene. The city boasts a variety of LGBTQ+-friendly bars, clubs, and entertainment venues. The renowned Old Town, also known as the "gay village," is the epicenter of nighttime excitement, offering a wide range of gay bars, drag shows, and dance clubs. Don't miss out on iconic venues like People Disco Pub, Mercury Club, and Rich Bitch Show Bar. But there is definitely more to the place. Nestled in the Old Town, you'll find picturesque squares, longstanding local bars filled with old timers, a thriving Basque-inspired foodie culture, and everything you could want from an authentic Spanish town.Luckily for us, the Old Town is also home to Benidorm's impressive gayborhood. Over thirty bars and clubs are grouped together in a very small area, making for some of the best gay pub-crawling on the Spanish coast. It's a mix of laid-back terraces and more clubby, cruisey bars, so there is something for everyone. Just head down to Calle Quatro Esquinas or Calle Santa Faz after dinner (which, in Spain, is around 9 – 10 PM) and let the night run its course.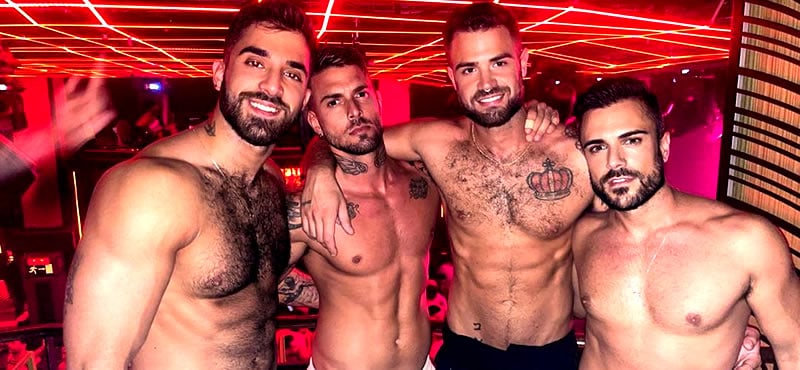 Aside from the generous selection of cruise bars, there are also two gay saunas in Benidorm. H2O is the larger one, with modern facilites and a handy location about 5 minutes from the main gay area. JJ Private Bar-Sauna is located a little further away from city center and is frequented by mature guys, mostly locals and expats. There is not an official gay beach, but as always, there are a few local spots that are especially popular with an LGBT crowd. The gayest is Raco del Conill, a nudist beach that sits about 6km outside of town – a taxi is the best way to reach it. Alternatively, the central beaches of Levante and Poniente each have their own gay corners – look for Don Cesar cafe in Levante and Refuel Cafe in Poniente, both near the Old Town.
Gay Events and Festivals:
Throughout the year, Benidorm hosts several exciting LGBTQ+ events and festivals that draw visitors from far and wide. The annual Benidorm Pride festival, held in September, is the highlight of the city's gay calendar. This vibrant celebration features colorful parades, live performances, and unforgettable parties, creating an electric atmosphere across the entire city. Benidorm's gay pride takes place every September, bringing the summer Pride season to a close in style. During this time, the town gets significantly gayer, especially as the peak season families and (straight) party groups have mostly returned home. This is a great time to come, with great weather, quieter hotels, and plenty of gay partying and entertainment.
Cultural Delights:
While Benidorm is known for its beaches and nightlife, it also offers a wealth of cultural attractions. Explore the historic Old Town, wander along the beautiful promenade, or visit the magnificent Balcon del Mediterraneo for breathtaking views of the coastline. Dive into the city's rich history at the Benidorm Museum and admire the stunning San Jaime Church.
Day Trips and Excursions:
If you're seeking a change of scenery, Benidorm's strategic location makes it an excellent base for day trips to nearby destinations. Discover the charming coastal towns of Altea and Villajoyosa, explore the stunning natural landscapes of the Guadalest Valley, or embark on a boat tour to the nearby island of Tabarca. Most visitors to Benidorm spend their days nursing their hangovers by the pool or the beach, but there is plenty on offer for more those who want something more active. You can try your hand at various watersports, go souvenir shopping at a local market, or even go for a day trip at one of the nearby regional wineries. For thrill-seekers, Benidorm is also home to Spain's largest waterpark, Aqualandia, and a theme park, Tierra Mitica.
SLEEP
Benidorm's Gay-Friendly Hotels
If you are in the mood for classic Benidorm party vibes, stay on the bustling Levante side; if you like something quieter, Poniente is the more chilled-out beach.
Accommodation in Benidorm can feel like a mass of nondescript all-inclusive resorts catering to British families, but there are gems if you know where to look. Many hotels have freshened up their interiors with sleek modern designs in past years, and there are several lovely boutique options. In the more traditional old town, you'll find old-fashioned independent hotels, all offering very good value right in the middle of the gayborhood.
GUIDE
Gays and the Law
As a whole, Spain is a very tolerant country of homosexuality. In fact, a 2013 study found it to have the highest rate of homosexual acceptance (88%) of all countries polled. Despite having only recently emerged from a troubled history of fascism, the country developed progressive gender and sexuality laws very quickly, and is now amongst the best in the world for LGBT rights.
Benidorm is a popular tourist resort and a historically gay-friendly place – the first gay bar in town opened in the 60s, when the country was still under fascist Franco rule. Gay visitors are openly welcome and should not face any hassle, especially within the Old Town.
---
GETTING TESTED
Take support to the next level.
Better2Know Benidorm is the most convenient place to get a test in town. Better2Know are a well-established chain of private clinics across Spain, with efficient and bilingual service. That said, as a private clinic, prices are relatively high. A 28-day HIV test costs €125 and a full STI screen €295. A taxi to central Malaga takes about 20 minutes, or there are regular direct bus services from Torremolinos.
---
Benidorm's beautiful beaches, lively nightlife, inclusive atmosphere, and rich cultural heritage make it a top LGBTQ+ destination in Europe. Plan your trip to Gay Benidorm and indulge in a vacation that offers relaxation, excitement, and authenticity. Embrace your true self, connect with like-minded individuals, and create memories that will last a lifetime in this vibrant coastal paradise.
Spread the loveUncover the top-rated gay bars and saunas in Benidorm, where vibrant nightlife and relaxation meet LGBTQ+ inclusivity. Explore a diverse array of venues, from energetic bars to tranquil saunas, and immerse yourself in the vibrant LGBTQ+ scene. Whether you're seeking a thrilling night out or a rejuvenating escape, Benidorm offers the perfect blend…

Spread the love10 Best Hotels in Benidorm for Gay Travelers Accommodation in Benidorm can feel like a mass of nondescript all-inclusive resorts catering to British families, but there are gems if you know where to look. Many hotels have freshened up their interiors with sleek modern designs in past years, and there are several lovely…

Spread the love What's it really like? Welcome to Benidorm, the picturesque coastal city on Spain's Costa Blanca. Renowned for its stunning beaches, vibrant nightlife, and welcoming atmosphere, Benidorm has also earned a well-deserved reputation as a thriving LGBTQ+ destination. In this comprehensive travel guide, we will take you on a journey to explore the…
Facebook Comments