Known as the cultural capital of northern Thailand, Chiang Mai offers many historic cultural attractions and an exciting local gay scene. Chiang Mai is the largest city in northern Thailand, with nearly one million people in the greater area. The city has a large student population, which helps to keep the vibrant nightlife growing alongside Chiang Mai's rise as a popular tourist destination.
The city was the former capital of the Lanna Kingdom, which translates as "the land of a million rice fields". Chiang Mai's city center is still within the historical walls and moat. The city became an important trading hub due to its riverside position along the Mae Ping River, a major tributary to the Chao Phraya River.
This trading city developed a mix of cultural identities which can be seen in the local Buddhist temples showcasing a mix of Burmese, Sri Lankan, and Lanna Thai style Buddhism and architecture.
Gay Chiang Mai offers a more relaxed alternative to some of Thailand's other main destinations like Bangkok, Phuket, and Koh Phangan, leaving behind booze buckets and sleazy nightclubs in favor of a refreshing blend of Thai tradition and cool youth culture.
Chiang Mai, like most of Thailand, is very gay-friendly with a laid-back gay scene. The city is home to a few gay bars, gay saunas, and massage parlors. Most of the gay scene in Chiang Mai is targeted towards the local population, especially students.
Chiang Mai's Gay Nightlife
Chiang Mai has a number of gay bars centered around the Night Bazaar. Two epic bars compete for the title of best cabaret shows – 6ixcret Bar and Ram Bar. Each with shows 7 nights a week. Both bars are located in the Night Bazaar area and offer a fun but early night out. There are also a number of smaller bars that offer causal spots for beer and chats. There are no late-night gay dance clubs in Chiang Mai, most of the action closes down shortly after midnight. After midnight the options are: SangDee – hip gallery/nightclub, the most LGBT popular option. Spicy and Las Vegas – which are packed with backpackers. Warm Up Café – popular with the locals and students.
Drink.
Gay Saunas, Cruising & Massage
Gay Saunas in Chiang Mai are enjoyed by both a large local population and many visiting tourists and resident expats. Gay Chiang Mai has two main saunas; House of Male and Club One Seven Sauna. Both offer a good range of facilities, generally busy and are good value for money.
Play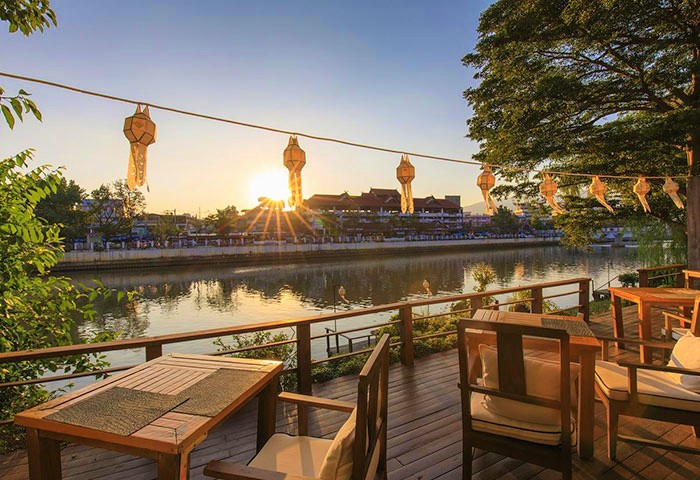 Chiang Mai's Gay-Friendly Hotels
Having established itself as Thailand's trendiest city, Chiang Mai now has more than its share of stylish luxury hotels. Here, you'll find everything from cool and hip urban pads to lavish villas steeped in the Thai tradition. We have focused on hotels in the fashionable Nimman area and Night Bazaar riverside location. Two central spots where you will where you'll find a lot of the gay Chiang Mai nightlife and general attractions.
GAYS AND THE LAW
In terms of public tolerance and acceptance of homosexuality, Thailand is one of the most welcoming countries across Asia. Chiang Mai is a cosmopolitan city with an established gay population, so you should have no trouble with things like checking into hotels and hanging out with other gay men.
As a whole, Thai people value discretion and non-confrontation, so no one should give you any hassle for being seen together. That said, public displays of affection – both straight and gay – are frowned upon.
Male and female same-sex activity is legal in Thailand however gay marriage is not legal yet. Bangkok Post reports that "…while Thailand is viewed as a tourist haven for same-sex couples, the reality for locals is that the law, and often public sentiment, is not so liberal." LGBT residents of Thailand and Bangkok are not offered the equal legal protections offered to non-LGBT (straight) people.
GETTING TESTED
There are several options for getting an HIV test in Chiang Mai. The Love Foundation offers a wide range of STD testing options, and is based in a business park on the outskirts of the city.
Napneung is a project by Chiang Mai University that offers anonymous, fast (under an hour), and free HIV testing for Thai residents, with a participation fee for non-residents. It is based in Maharaj Nakorn Chiang Mai Hospital. The CM Clinic also runs a specialized STD and HIV clinic.
Thailand has one of the highest prevalences of HIV in the Asia and Pacific region, and almost 50% of all new HIV infections are amongst gay or bisexual men, male sex workers, and transgender people. Approximately 9% of men who have sex with men in Thailand have HIV. Chiang Mai is not particularly known for HIV incidence, but you should still take care to practice safe sex in all your encounters.
LOCAL NEIGHBORHOODS
Chiang Mai is not neatly divided into distinct neighborhoods. However, there are a few key hubs, located around prominent attractions.
Old City – The Chiang Mai old city is recognizable by its distinctive square shape, with the original moat still outlining the area. It is the tourist heart of the city, with the biggest concentration of stunning temples as well as several cool coffee shops, boutiques, bars, and restaurants. Stay within the walls or just outside them to be next to all the highlights.
Nimmanhaemin – This is Chiang Mai's most modern and trendy area, close to the University. It is filled with art galleries, wine bars, artisan coffee shops, and all the other global tenets of an up-and-coming hipster neighborhood.
Lang Mor – Next to Nimmanhaemin, this is the area most frequented by the university's student population. This means that it also has plenty of cool establishments, for a much cheaper price. There is a night market here that is smaller than the city's main market, but is great for cheap food and shopping.
Ta Phae Gate – The Old City's eastern gate leads to a commercial area that gets quite a bit of tourist traffic due to the Night Bazaar on Th Chang Khan, one of the city's main attractions.
Riverside – The banks of the Mae Ping showcase the more local Chiang Mai, away from the tourist hotspots of the city center. Here, you will find signs of real Thai life and some good restaurants and venues.
GETTING AROUND
From Chiang Mai International Airport – There is no public transport from the airport, but it is close enough to the city that a taxi journey shouldn't cost more than 160B.
Bus – Chiang Mai has two bus terminals, Chang Phueak Bus Terminal serving the north of the country and Arcade Bus Terminal connecting to the rest of the country and few international destinations such as Luang Prabang in Laos. You can get a local blue songthaew or rot daang (red truck) to get to and from both bus terminals.
Train – The train service between Bangkok and Chiang Mai has four different speeds and several seating options. Prices range from about 250B for a 3rd class bench seat to around 1500B for an air-conditioned sleeper berth.
Taxi – Taxis are rare within the city, and operate mainly from and to the airport. Taxi Meter offers taxi pick-ups, but there is little advantage to this compared to using a tuk-tuk or rot daang.
Bike – Chiang Mai is a very bike-friendly city, and there are several places renting out bicycles – although these do tend to be on the rickety side.
Rot Daang – Literally Thai for "Red Truck", these are Chiang Mai's local version of the songthaews you see on the islands. They are essentially a shared taxi: hail one from the street and ask if they will take you to your destination. They may not if they are headed in an entirely different direction. You can also charter one privately, but it is only worth it if you have a group – ask a driver that is stopped at the side of the road about this service. Rot daang are used by both locals and tourists, meaning you have less of a chance of being ripped off than with a tuk-tuk. A ride within Chiang Mai will cost 20-40B.
Tuk-tuk – These work similarly to Bangkok, and tend to be aimed towards tourists. This means higher rates and the occasional hassle from a driver trying to take you to a tourist attraction. Prices are more expensive at night, about 100B.
Motorbikes and Scooters – Many people rent motorbikes when in Thailand, and the north is probably one of the best places to do this. While the Old City of Chiang Mai is easily navigated on foot and has plenty to offer, the best way to take full advantage of the extended city and the region's beautiful natural attractions is on a motorbike. Plenty of hotels and guesthouses offer daily rentals, from 150B a day for an automatic scooter – good for getting around in the city – to more powerful engines (700-2000B a day) which can handle the surrounding mountains. Always take insurance and use the chain and padlock provided. You should wear a helmet and carry photo ID and a license at all times, or you may be fined.
Facebook Comments