What's it really like?
Welcome to Gay-Friendly Bali, a tropical paradise in Indonesia where breathtaking landscapes, rich culture, and warm hospitality embrace the LGBTQ+ community. We invite you to embark on a journey to explore the vibrant LGBTQ+ scene in Bali. From inclusive accommodations and gay-friendly hotspots to thrilling events and celebrations, Bali offers a safe haven for LGBTQ+ travelers and allies. Join us as we dive into this magical destination where diversity shines and acceptance reigns supreme. Gay Bali, famed as a surfing paradise with exquisite beaches, ancient cliff-top temples, and mountainous rice paddy fields. Bali is one of Asia's most desirable destinations for a gay holiday. It's true Bali deserves every bit of its paradise reputation. Bali has hotels to suit every holiday from trendy beach resorts to romantic mountain top villas or even budget hostels on backpacking party streets. Bali's culture allows for gay visitors to be accepted across the island. Gay Bali is focused around a group of bars located in Seminyak on Jalan Camplung Tanduk Road. Seminyak is South Bali's trendy neighborhood, located north of Kuta. The area is filled with luxury beach resorts, chic restaurants and trendy bars.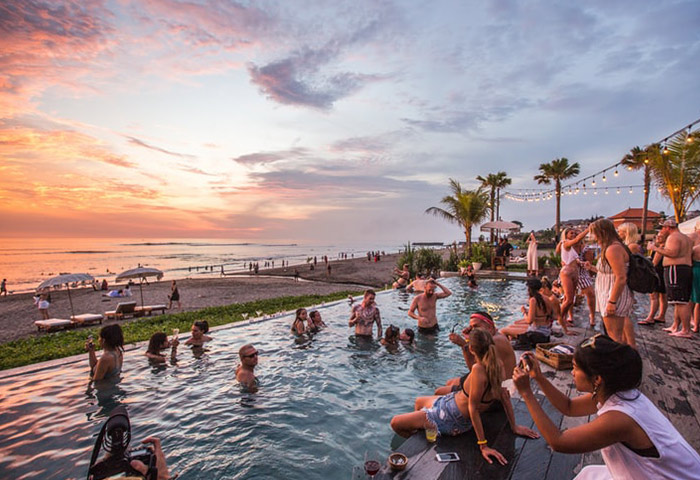 LGBTQ+-Friendly Accommodations in Gay-Friendly Bali
In Gay-Friendly Bali, choosing the perfect accommodations is a breeze. From luxury resorts to budget-friendly guesthouses, there is a wide range of LGBTQ+-friendly options that cater to your needs. Discover welcoming environments, impeccable service, and a strong sense of inclusivity as we highlight some of the top places to stay in Gay-Friendly Bali.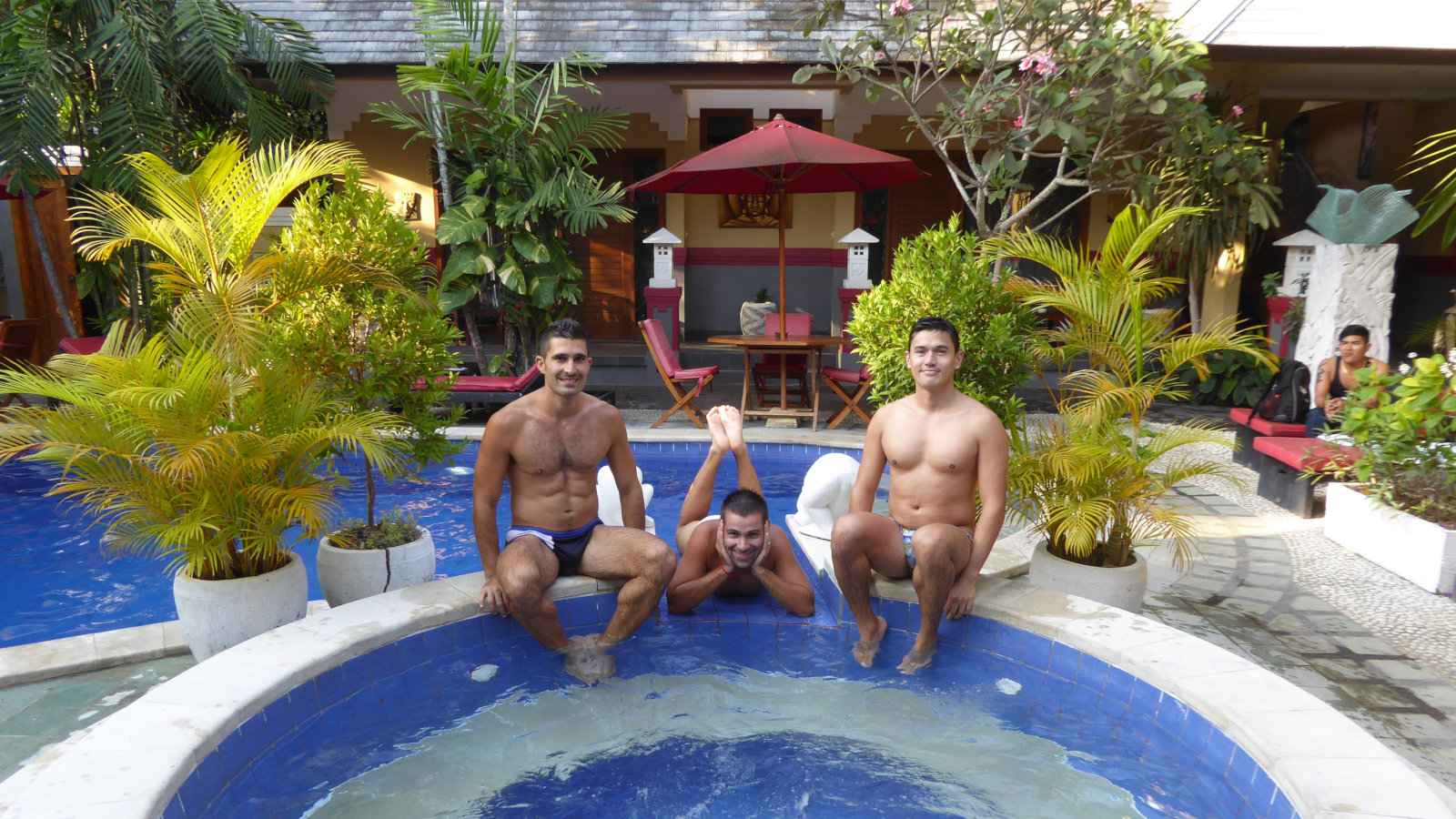 Exploring Gay-Friendly Hotspots in Bali
Gay-Friendly Bali is home to a lively LGBTQ+ scene with an array of vibrant venues. From trendy bars and clubs to exceptional restaurants and cafes, there is no shortage of places to socialize and have an amazing time. Discover the most popular hotspots where you can savor fabulous cocktails, dance to pulsating beats, and connect with like-minded individuals.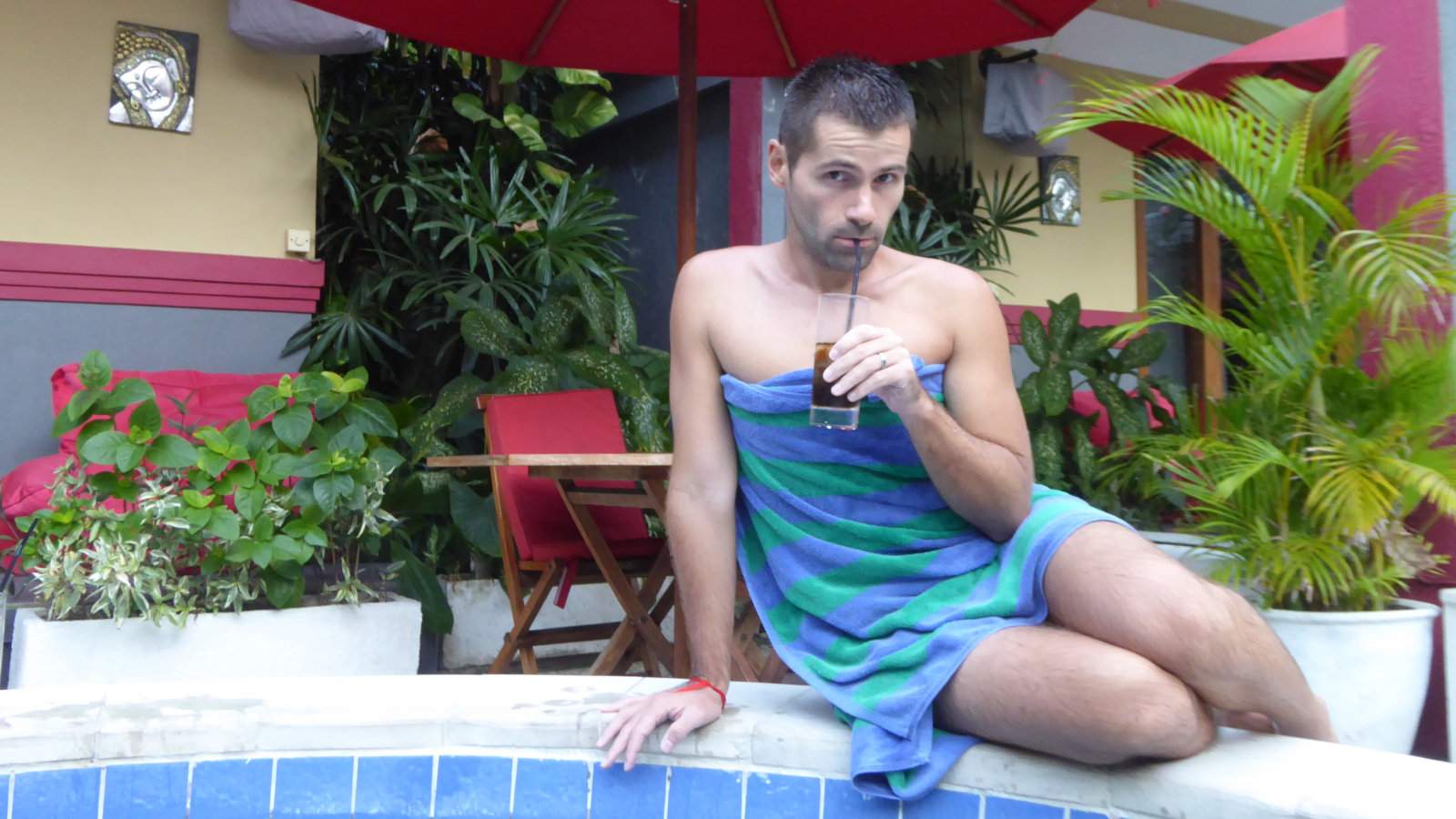 Join the Celebration: LGBTQ+ Events and Festivals in Bali
Bali hosts a vibrant calendar of LGBTQ+ events and festivals that highlight the diversity and unity within the community. From colorful pride parades and captivating film festivals to exhilarating drag shows and beach parties, these celebrations offer a unique opportunity to embrace love, equality, and acceptance. Stay up-to-date with the annual LGBTQ+ events in Bali to ensure you don't miss out on the excitement during your visit.
Unforgettable LGBTQ+-Friendly Excursions and Activities in Bali
Beyond the accommodations and hotspots, Gay-Friendly Bali offers a plethora of LGBTQ+-friendly excursions and activities to immerse yourself in. Whether you seek relaxation on picturesque beaches, spiritual journeys through ancient temples, or adrenaline-pumping adventures in lush jungles, Bali has it all. Discover must-try activities that cater to all interests and preferences, ensuring an unforgettable experience.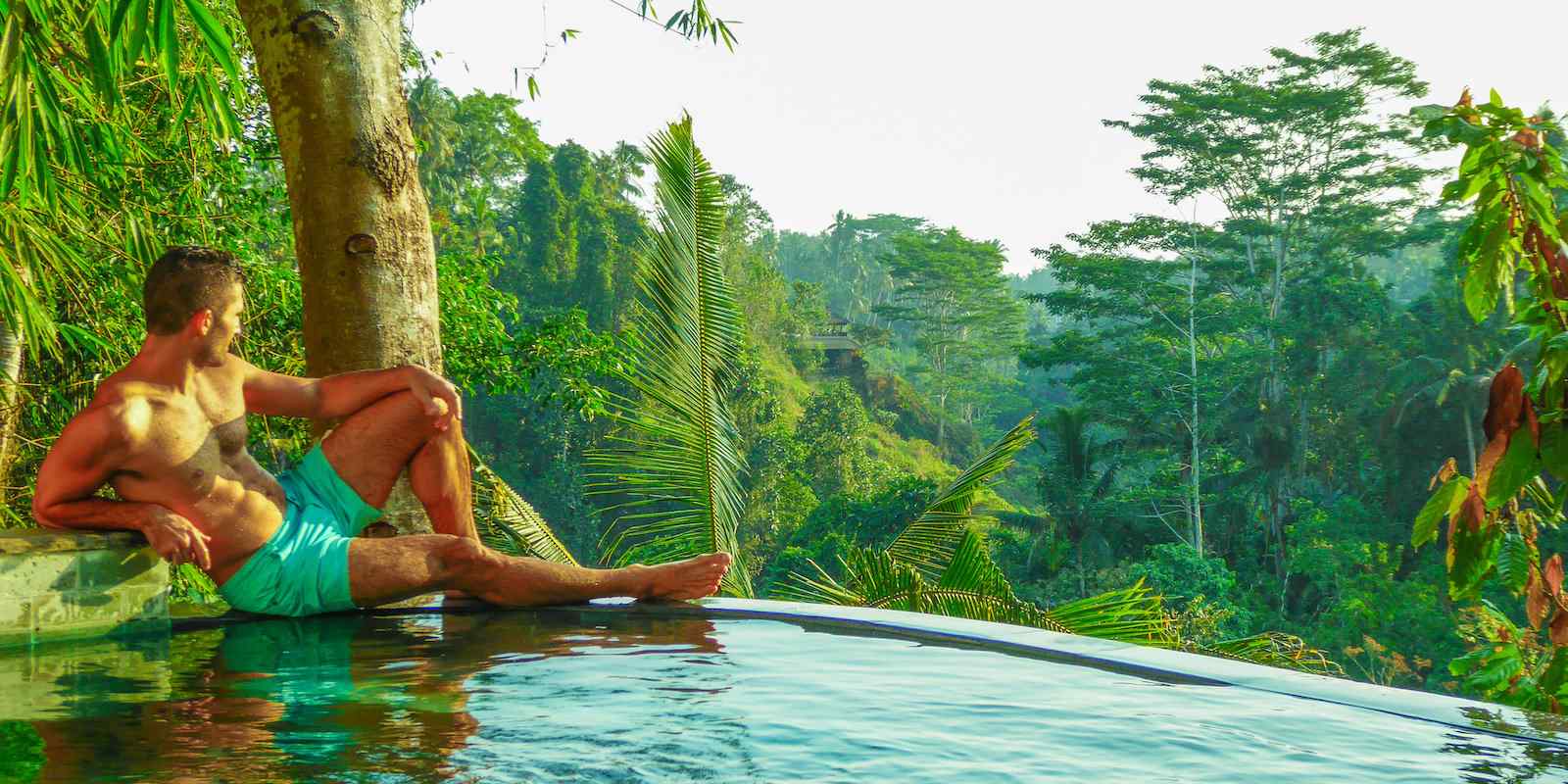 Bali's gay scene is relatively small and concentrated in Jalan Camplung Tanduk in Seminyak. The handful of bars are located next door to each other making the area perfect for bar hopping. As you travel between the bars expect drag shows, international pop, inside smoking, and plenty of Indonesian working men.
Most of the action kicks off around 11 pm – 12 am with the majority of the bars closing around 3 am. Like most holiday destinations, parties take place every night of the week, all year round.
Gay Bali's sauna scene is limited with just two male-only saunas on the island. Banana Spa and Elegantz Spa & Sauna are both located in Seminyak. They offer steam and sauna facilities along with private massage treatments.
Bali's Gay-Friendly Hotels
From chic to cheap Bali has it all. Whether you are looking for that isolated honeymoon villa or trendy beach resort Bali's got it.
Party people should stay in south Bali's Seminyak or Kuta to make the most of the nightlife. Seminyak and Kuta are located next to each other and make up most of the island's tourism hot spot. But if you are looking for deserted palm-fringed beaches you should check out north Bali with its incredible black sand beaches.
Inland Bali around Ubud is great for panoramic mountain views over the hillside rice paddies. Read our full guide to Bali's districts. If you are looking for something a little more freeing, you might want to check out some of Bali's gay-only resorts. Many of these resorts have a "clothing optional" policy.
Practical Tips and Safety Information for Gay-Friendly Bali
To ensure a seamless and enjoyable experience while exploring Gay-Friendly Bali, we provide practical tips and essential safety information. From understanding local customs and etiquette to knowing your rights as an LGBTQ+ traveler, we equip you with the necessary knowledge to navigate the island with confidence and peace of mind.
Gay and the Law
In terms of public tolerance and acceptance of homosexuality, views are very mixed across Indonesia. Bali is one of the most accepting parts of Indonesia. There are many factors for this including the island's original Hindu religion and it's recent history as a tourist hot spot.
Across Indonesia, LGBT acceptance is not widespread. Male and female same-sex activity is legal in Bali. Gay marriage and international same-sex marriages are not recognized in Bali or Indonesia. LGBTQIA residents of Bali and Indonesia are not offered the equal legal protections that are given to non-LGBTQIA (straight) people.
Getting Tested
The best place to get tested in Bali is in a private hospital. Tests are not subsidized and can be relatively expensive. BIMC Bali is the island's leading private hospital which offers full HIV and STI testing and treatment.
Local HIV initiative, Gaya Dewata maintains an up-to-date list of other recommended clinics. The HIV infection rate among gay men living in Bali is as high as 20% and for sex workers, it is higher. Condom and lube are widely available across Bali with all convenience stores and supermarkets stocking them. Before you travel consider travel insurance that covers HIV treatment and testing, not all travel insurances cover these procedures.
Location and Neighborhoods
A short guide to the main areas of interest for gay tourists when visiting Bali. Most of the tourist activities are centralized around south Bali especially Kuta Beach and trendy Seminyak. The main gay bars in Bali are located in Seminyak on Jalan Camplung Tanduk Road.
Kuta — backpacking hub and surfing central. Kuta is the most developed tourist area in Bali. It's great for budget travelers with parties, shopping, and markets.
Seminyak — the center of gay Bali and home to fashionable hotels and restaurants. Located just north of Kuta, neighboring Seminyak is Kuta's trendy older brother. Home to some of Bali's best beach clubs, such as Potato Head, and luxury resorts including W Bali. Located on Jalan Camplung Tanduk Road in Seminyak are the handful of gay bars and clubs that make up Bali's gay nightlife.
Denpasar — The administrative hub of Bali. The island's main city unseen by most tourists due to the lack of attractions.
Ubud — Bali's hill station, located on the island's central foothills. This creative little town has developed an arts and crafts vibe with many vibrant independent galleries and shops opening here.
Jatiluwih – One of the best areas to see Bali's iconic and beautiful rice paddy cover hills. This region has been nominated for designation as a UNESCO World Heritage site. Jatiluwih is located slightly further inland from Ubud.
Lovina — Famed in the northwest of Bali for its beautiful black sand beaches and unique coral reefs.
Getting Around
While you might not expect it from a tropical island, Bali can have horrendous traffic jams. Consider this when planning activities and choosing your hotel location.
Airport – Ngurah Rai International Airport (DPS) – commonly referred to as Denpasar International Airport, is Bali main airport located in the south near to Denpasar city and Kuta. Taxis are plentiful at the airport but remember to ask for the meter or negotiate before getting in the car. Most hotels offer airport pickups which can relieve some of the arrival stress.
Taxi – widely available across Kuta and Seminyak. Taxis offer a cheap option to travel around the island. It's not uncommon to hire taxis for a full day or set hours to explore the island. Negotiation is key and it may be best to ask your hotel for similar services to compare prices.
Bemo – Bali's budget public transportation system of open-air minibusses. Prices can vary, especially for visitors who are frequently overcharged. Try to see how much the locals are paying and have small change ready. If traveling with large bags expect to pay extra for the bagage.
Embark on a remarkable journey to discover Gay-Friendly Bali, a destination that celebrates diversity, fosters inclusivity, and embraces love in all its forms. From the warm and friendly locals to the awe-inspiring natural beauty, Bali offers an unforgettable experience for LGBTQ+ travelers and allies. Start planning your trip to Gay-Friendly Bali today and create lifelong memories in a place where acceptance knows no bounds.
Spread the loveAs the world ushers in an era of inclusivity and acceptance, understanding the complexities and personal experiences of the LGBTQ+ community becomes significantly important. This includes gaining an insight into the process of 'coming out' – a vital step where individuals publicly acknowledge their sexual orientation or gender identity. Our narrative begins with…

Spread the love With the world becoming an ever more accessible place, the desire for adventure and discovery pulsates through our veins. We yearn for experiences that shift our perspectives and create memories that last lifetimes. Embarking on a journey is not as simple as just buying a ticket and hopping on a plane, it…

Spread the loveIntroduction: Gay Pride, also known as LGBTQ+ Pride or simply Pride, is an annual celebration observed by lesbian, gay, bisexual, transgender, and queer communities worldwide. It serves as a platform to promote equality, visibility, and acceptance for individuals of diverse sexual orientations and gender identities. In this article, we will delve into the…
Facebook Comments