Pattaya's Gay Nightlife
Whether you are pulled in by the neon of the go-go bars or simply want to enjoy the cheap and delicious beer flowing from every corner, you are always guaranteed a wild night in gay Pattaya. There are three main groupings of gay venues in Pattaya; Boztown, Sunee Plaza and Dongtan gay beach.
Gay Saunas, Cruising & Massage
Pattaya is known for its sex trade, but that doesn't mean that there isn't any regular old cruising going on. The main place to go is Sansuk Sauna, the only gay sauna in Pattaya. Massage services are also very popular, with several gay massage parlors throughout the city. The two most famous ones are COPA Body Massage and Helios Men Club, both specializing in the "happy ending" type of service.
GAYS AND THE LAW
In terms of public tolerance and acceptance of homosexuality, Thailand is one of the most welcoming countries across Asia. With Pattaya being quite a popular tourist destination, gay couples should not encounter any issues.
As a whole, Thai people value discretion and non-confrontation, so no one should give you any hassle for being seen together. That said, public displays of affection – both straight and gay – are frowned upon in most areas. Since Pattaya is mostly a resort for tourists, this doesn't apply as strongly here.
Male and female same-sex activity is legal in Thailand however gay marriage is not legal yet. Bangkok Post reports that "…while Thailand is viewed as a tourist haven for same-sex couples, the reality for locals is that the law, and often public sentiment, is not so liberal." LGBT residents of Thailand and Bangkok are not offered equal legal protections offered to non-LGBT (straight) people.
Some guys and girls working in Pattaya look young. It is your personal responsibility for ensuring that the person is over the age of 18 – particularly freelancers who are not supervised by a bar. Ask for photo ID if in doubt. Sex with a minor is a serious criminal offence; and the police have, quite rightly, been cracking down on this unacceptable practice.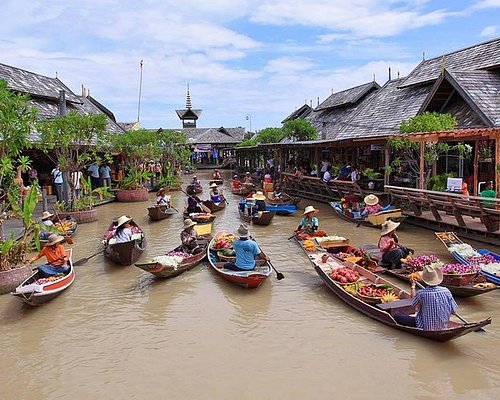 LOCAL NEIGHBORHOODS
Pattaya is quite small, so "areas" here usually mean particular streets. Most people stay around Pattaya Beach, but there are groupings of gay nightlife away from the center. The more family-friendly resorts tend to be away from this central area, further north or south.
Pattaya Beach – The downtown area is where tourists tend to spend most of their time. It is focused around Pattaya Beach, a long thin strip of sand, and Beach Road, which runs alongside it. Behind these are 2nd Road and 3rd Road, with smaller streets connecting them. NAB Men Club is on one of these streets, Soi 6 (which is known for its ladyboy bars). MUZE Club sits on a small street between 2nd Road and 3rd Road.
BoyzTown – The capital for gay Pattaya's nightlife. This area at the very end of Beach Road is where most of the gay bars are located. Many of these are go-go bars, but a couple are regular bars with a nice vibe. Examples include Le Cafe Royal and Panorama.
Sunee Plaza – This small area consists of a block of streets off Soi 17 (which itself comes off 2nd Road), and features another grouping of gay venues. These include Eros Bar, Ting Tong Bar, and a variety of gay host and go-go clubs. This is the closest thing to a gay Red Light District and is generally seedier than BoyzTown.
Dongtan Gay Beach – Pattaya's gay beach is one of Thailand's most popular, filling up every weekend with guys from all over the world. It is located in Jomtien, a town just south of Pattaya, although the two are often considered as one city. The beaches in this area tend to be cleaner and less overdeveloped than Pattaya Beach itself, and Dongtan is no exception. The gay part is concentrated around Rabbit Resort, with several gay bars grouped closely together in the Jomtien Complex. These include At Home Bar, Ganymede Bar, Cocka2, Dick's Cafe, and Question Mark.
Walking Street – Walking Street continues from the end of Beach Road and becomes pedestrianized. It is a brightly neon-lit strip dedicated entirely to nightlife, with beer bars, go-go bars, nightclubs, karaoke bars, and strip clubs. Despite being the main nightlife area of Pattaya, there are no gay-specific bars here (although Pattayaland is just next door).
North Pattaya – The area north of the city center does not have much in the way of nightlife but does have a few local attractions. The Sanctuary of Truth, a beautiful temple carved from wood, is the most famous and is definitely worth a visit. There are also several high-end luxury resorts in the north, which can be a good option if you are looking for something more relaxing.
Ko Lan – An island off the coast of Pattaya with beautiful sandy beaches, which is easily accessible by ferry.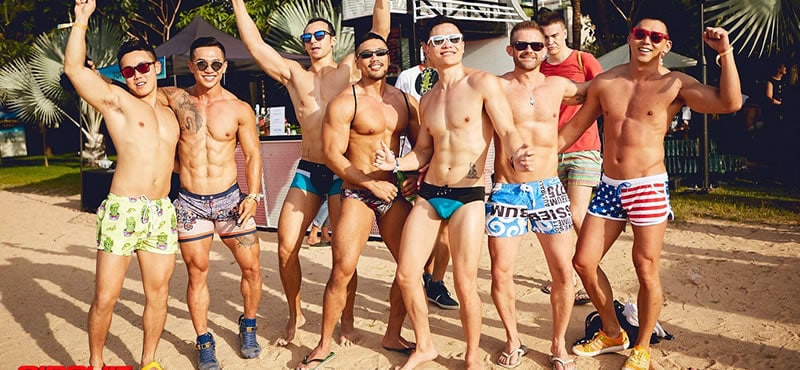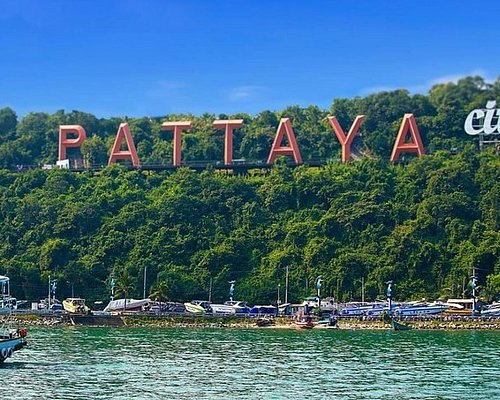 Pattaya, a notorious party destination in Thailand, is also known for its vibrant gay scene. It has long been considered as the less desirable counterpart of Bangkok, with sex tourism being a major draw. With its excessive development and indulgent atmosphere, many tourists avoided it as they believed it represented the worst aspects of Thai tourism.
However, Pattaya has recently undergone a rebranding effort. Authorities have improved the beaches, made certain streets pedestrian-friendly, and implemented stricter regulations on the sex industry. As a result, families and couples now share the area with party-goers, creating a fun and relaxed environment where everyone can have a good time.
For gay travelers, Pattaya offers a wide range of attractions such as gay go-go bars, cabaret shows, karaoke nights, drag performances, clubs, massages, and the popular gay Dongtan beach. Located less than two hours away from Bangkok by car, Pattaya is proving to be a worthwhile destination in its own right and a great addition to any Thai itinerary.
Pattaya's Gay-Friendly Hotels
The party scene in Pattaya is undoubtedly fun, and many people just want to stay at the heart of it all. Ultimately, it's down to what you like: stay in Pattaya if you enjoy a more hardcore party vibe, or head to Jomtien if spending the day on a gay beach is more your thing. Or if you want to leave the sleaze behind, outside of the city center, there are plenty of luxury and upscale resorts perfect for a relaxing beach break.
GETTING TESTED
You can get an HIV test at any of the hospitals in Pattaya, however you are likely to have to pay more if you go to one of the more upscale private ones like Bangkok Pattaya Hospital. It may be easier for you to simply head to Bangkok for your test as it's simple to get tested for cheap there. Local Health Initiative TestBKK offers great up-to-date information on where, when and how much it will cost to get tested.
The Thai Red Cross Clinic in Silom is the easiest place for tourists and non-Thai individuals to get tested. Testing here is affordable (not more than $10 USD) and quick, HIV results are returned in under 1 hour. English is spoken through the clinic and results are kept confidential.
Thailand has one of the highest prevalences of HIV in the Asia and Pacific region, and almost 50% of all new HIV infections are amongst gay or bisexual men, male sex workers, and transgender people. Approximately 9% of men who have sex with men in Thailand have HIV. Pattaya is not particularly known for HIV incidence within the country, but the popularity of sex work makes this a real danger. Make sure to practice safe sex in all your encounters on the island, and carry your own condoms and lube.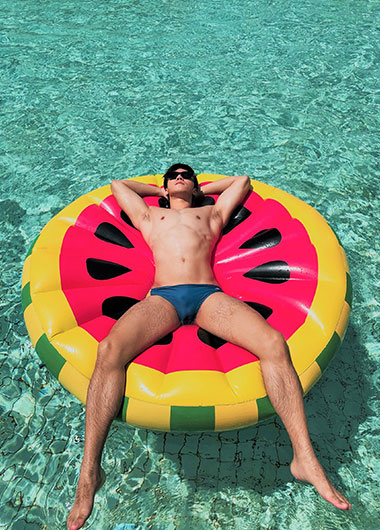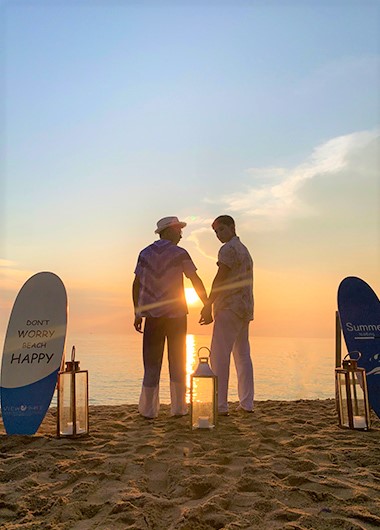 GETTING AROUND
Gay Pattaya is a small place so transport is not overly complicated. You can walk around much of the city center, including all the main nightlife areas. The only place further away in Dongtan Beach, which is still only a 20-minute drive from Pattaya Beach (over an hour's walk).
From U-Tapao Airport – The local Pattaya airport only serves certain domestic flights. The best way to get into town is to rent a minibus to your hotel at the airport, which should cost 200-250B and take 30 minutes. A taxi will cost about 750B.
From Suvarnabhumi Airport – If you've flown into Bangkok but are heading straight to Pattaya, there is a direct bus that takes about two hours and costs 120B. The bus is air-conditioned and comfortable and you can buy a ticket at the transport counter at the airport. A taxi should have a fixed fare of 1,050B plus 60B in expressway charges.
Songthaew – Pattaya's main transport infrastructure is its extensive fleet of songthaews. Songthaews, or sorng-taa-ou, are a familiar sight throughout Thailand. Somewhere between a bus and a tuk-tuk, they are beloved by tourists and a good place to strike up a conversation with fellow travelers. You can hail a songthaew from anywhere in Pattaya and there is a flat fare of 10 baht for travel within and between Pattaya and Jomtien. They are extremely common and you should have no trouble finding one at any time of day or night. If you see a driver with an empty songthaew, make sure he is not charging you a taxi (private charter) price before you board.
Taxi – You will see some metered taxis in Pattaya, but most of them have brought tourists from Bangkok and are just looking for someone to take the way back. Though they have meters, they don't tend to use them so agree on a price before you board.
Bicycle – Pattaya can be more or less easily cycled, but there are not a lot of bicycle rental shops in town.
Motorbike Rental – Renting a motorbike is a rite of passage of sorts for tourists in Thailand. It is reasonably cheap – about 150 -250B a day in Pattaya – and allows for far greater flexibility and independence. However, it is worth noting that Thailand has some infamously dangerous roads and infamously reckless drivers. Accidents are common and rental does not tend to include insurance. Make sure to wear a helmet, for basic safety but also because you may be fined if you don't. Also, this should go without saying, but do not rent a motorbike if you have never driven one before. Yes, people do it all the time, and yes some rental companies will turn a blind eye, but it is illegal and not a particularly smart move.
Facebook Comments