Sitges's Gay-Friendly Hotels
Sitges is arguably one of the most gay-friendly places in the world. It's an incredibly popular beach destination for everyone from families to large groups of gay party boys. Every hotel in the city caters to gay visitors, particularly the ones in and around the gayborhood.
The vibe here is friendly and down to earth, so you won't find an abundance of exclusive 5-star resorts (in fact, there's only one of those, and it's a little bit outside the main town). Instead, there is a great selection of stylish 4-star hotels, many with cool contemporary design, great facilities, and good food. Go for something in the city center if you're here to party, or head out to the beaches east and west of the main town for a little more peace and quiet.
Of course, there is always the option of staying in Barcelona for part of your trip. It's just 30-45 minutes by train between the cities.
Gay Sites Nightlife
Sitges is such a gay hub that every bar in the city center can feel like a gay bar, especially during peak partying season in the summer. Wherever you go, you are likely to meet guys on their way to some party or other. There is of course however a great selection of gay bars and clubs, ranging from breezy terraces to cruising dark rooms.
A few of the bars and clubs are shut or have reduced hours outside of the summer peak season, so check ahead of time. It is possible to party and have a good time in Sitges at any time of year, but expect to find a much quieter town if you are not visiting in the summer. The only exception is Carnaval in February-March, which while not LGBT-specific tends to attract a large gay crowd. As can be expected, the very peak of gay Sitges comes in the weeks surrounding Pride in June.
Nightlife in Spain doesn't really start until quite late, so you won't find locals out partying until at least midnight. On the other hand, gay Sitges is so full of visitors and expats from all over the world that the international crowd tends to get things started earlier.
Most of the gay bars are situated in the main commercial center, in and around Carrer Montroig (also known as Carrer del Pecat, or Sin Street), with several of them on a narrow pedestrian street called Carrer Bonaire. Parrots Pub is arguably the most central, located on Placa de la Industria, and is the starting point for many nights out. It's good for sitting outside sipping a drink, getting some food, and watching the world go by, as are Carousel, Summer Lounge, AMB GUST, and Central Bar Cafe. Bukkake and Bunker are the main cruising options, while Bear's Bar caters to a specific and self-explanatory audience.
Most bars in gay Sitges open late, so you can spend most of your evening in your bar of choice without having to move around too much. However, the party does pick up considerably later on in the night in several gay clubs across town, many of which only open when the bars begin to close. Amongst these are Organic, one of the mainstays of gay Sitges, and Privilege, whose foam parties are legendary.
The Gay Beach Party is one of gay Sitges' most popular events, happening every Thursday at Sweet Pacha. The location at the port makes for some spectacular views, but is difficult to reach. A shuttle bus departing from Hotel Calipolis (directly in front of the gay beach) helps party-goers get there for free.
Gay Sites Saunas
Sauna Sitges is the city's main gay sauna. The venue was renovated in 2016 and the facilities include, jacuzzi, dry and wet sauna, private cubicles, a large open-plan cruising area, and cruising maze. There is also a foam party on Saturdays during the summer season.
Outside of the saunas, gay Sitges in the summertime can feel like a cruising playground of sorts. There are a few dedicated sex clubs, XXL Sitges, DARK Sitges Bar (DSB), MAN Bar, Bukkake, and Bunker the gay beaches do tend to see their fair share of cruising, particularly the relatively isolated Platja de l'Home Mort.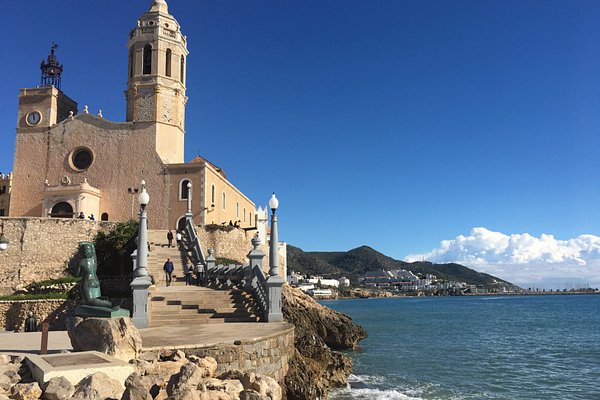 GETTING AROUND
Sitges is relatively small – you could walk from one end of the main town to the other in about an hour. It is quite easy to get around on foot, but there are a few transport options which are useful for when it's too hot to walk or when you're coming back from the club.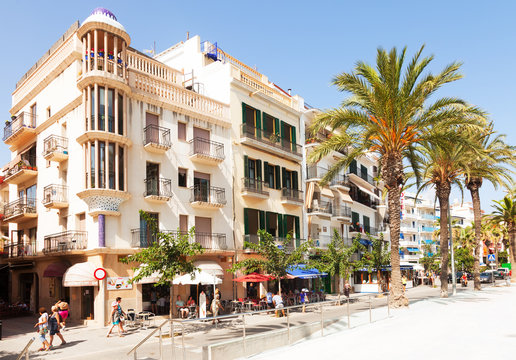 From El Reus Airport – The MonBus service (€4.10) goes straight to Sitges and stops in three places in town. It runs frequently on weekdays, but less often on weekends, so check the timetable before you go. You could also get a taxi for approximately €50, which should take about 30 minutes. There is also the option of getting a train to Barcelona and switching, but this is unnecessarily complex.
From Barcelona – If you are coming to Sitges from the city, the easiest way to make the journey is to take a train. Trains depart to Sitges regularly from Estació de França, Passeig de Gracia, and Estació Sants, but they are more frequent from the last two. Tickets cost €4.10 and the journey last 30-45 minutes depending on which train you get. You can also get a MonBus from Placa Espanya or Ronda Universitat, although it costs the same so there is little benefit. There is also a nighttime service (N30, N31, N32) that covers the same route from 0:55 to 5:50 and which runs four times an hour. This can be useful if you are staying in one city and going out in the other.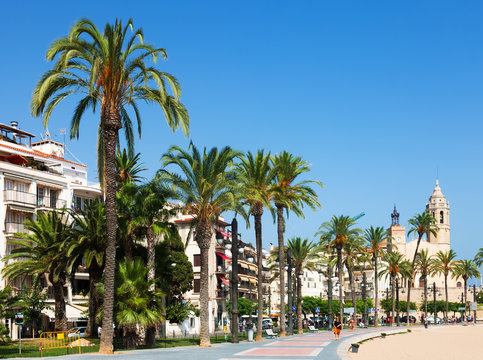 Bus – There are three local bus lines that run throughout Sitges. Line 1 covers the north of the town, Line 2 the west side, and Line 3 the eastern end. The buses stop running at 9 pm, so they are only useful for getting around during the day. All tickets cost €1.50, with a ten-journey ticket costing €12. You can find detailed information on the bus lines and stops here.
Taxi – There are two taxi ranks in Sitges, one in front of the train station and one in front of the tourist information center. It is a good idea to take note of one of the numbers (they are two separate firms) when you arrive.
Bicycle – As a relatively small town with quiet traffic, Sitges is easy enough to get around by bike. There are a few rental shops throughout the city.
Situated just outside of Barcelona, the small seaside town of Sitges may not seem like an obvious choice for an international gay mecca, but it has become one of Spain's most popular LGBTQ+ destinations, alongside Madrid, Gran Canaria, and its larger neighbor, Barcelona. The town's gay scene has a rich history dating back to the late 19th and early 20th century, when it attracted an artistic and intellectual crowd. Even under fascist rule, Sitges remained a progressive and liberal enclave, and it has maintained its reputation as a gay-friendly town ever since.
During the summer months and the Carnival festivities in late February/early March, gay travelers flock to Sitges to enjoy its beaches and vibrant nightlife. However, Sitges is not exclusively gay, and it attracts a diverse range of visitors, including families and European tourists seeking sun on Spain's coastlines. Beyond the beaches and parties, Sitges is also a cultural and artistic center, boasting galleries, museums, and beautiful modernist architecture. Each year, it hosts a popular film festival.
While there are many destinations in Europe that attract LGBTQ+ travelers, few offer the unique combination of sea, sunshine, and non-stop parties that can be found in gay Sitges. And with the added convenience of being located near one of the coolest cities in the world, it is a must-see destination for any self-respecting gay traveler.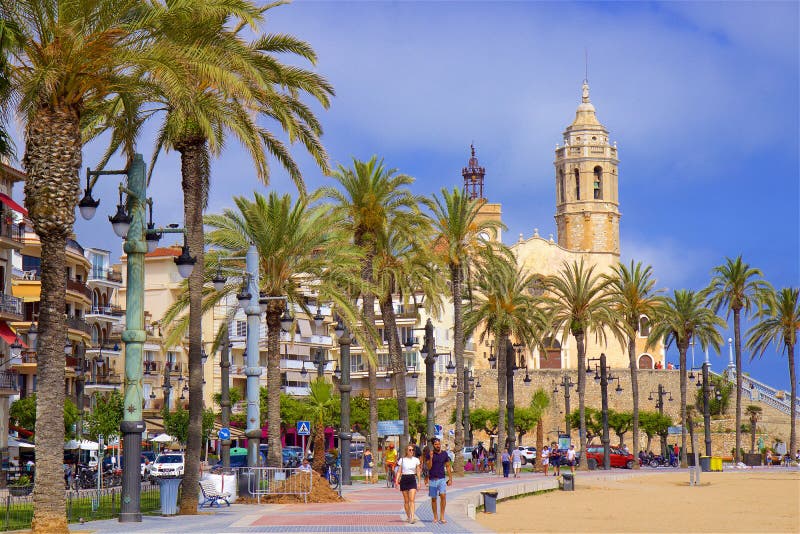 GAYS AND THE LAW
As a whole, Spain is a very tolerant country of homosexuality. In fact, a 2013 study found it to have the highest rate of homosexual acceptance (88%) of all countries polled. Despite having only recently emerged from a troubled history of fascism, the country developed progressive gender and sexuality laws very quickly, and is now amongst the best in the world for LGBT rights.
As well as being situated in liberal Catalonia, Sitges is a longstanding hub of gay culture. Gay visitors are openly welcomed here, and make up a significant part of the regular tourist trade.
GETTING TESTED
The best option for getting tested in Sitges is to take the train to Barcelona and get tested there. There are a few independent pharmacies and some private clinics that offer the service in gay Sitges, but you may have difficulty finding English-speaking staff in the former and the latter can be expensive.
The easiest place to get tested in Barcelona is BCN Checkpoint, which is conveniently located in the middle of Gaixample. The service offers free and quick (under 30 minutes) HIV checks for gay and bisexual men. You can book an appointment by calling them on +34 933 182 056 or at the clinic.
LOCAL NIGHBORHOODS
Sitges is essentially comprised of a regular Spanish town center, with its terrace-facing cafes, pedestrianized streets, and diverse local commerce, and the seventeen beaches that line the shore. The beaches near the city center are the busiest, with the ones on either end being the quietest and prettiest.
In the westerly direction, the beaches become part of Garraf, a small village next to Sitges, before meeting the beaches of Castelldefels, a nearby town and popular expat hub.
City Center – The closest thing Sitges has to a center is actually the east of the town, surrounding Placa del Cap de Villa. This is where you will find Sitges' lovely old town, featuring a mix of traditional streets and intricate modernist buildings. This area is also a hub of commerce and culture, with a few galleries and museums, and has some great eating options.
At night time, Carrer Montroig comes alive with a generous selection of bars and cafes spilling out onto the street with terrace seating. The surrounding area, particularly around Placa de la Industria, has the main concentration of gay Sitges bars and clubs, including Parrots, Yummy, Bear's Bar, Bunker, Organic, and Bukkake.
Platja la Bassa Rodona – Although you can find gay men in any beach along the coast, this is Sitges' only dedicated gay beach, and the epicenter of gay Sitges life during the summer peak months. It is very centrally located, close to Carrer Montroig and the gay area of the center.
Platja de l'Home Mort – A smaller, secluded nudist beach that is particularly popular with gays. The sand is quite rough, but there is a chiringuito (beachfront bar) and some sun loungers, making it a comfortable enough spot to spend a few hours. Its isolated location makes it beautiful and peaceful, but it is also difficult to reach without a car. There used to be a nightclub nearby, but it has closed.
Platja d'Aiguadolç and Platja dels Balmins – Two nudist beaches on the eastern edge of town, on either side of the marina. They are both particularly pretty as they are surrounded by rocks and greenery, as opposed to the buildings and developments that frame the other beaches. They are both mixed gender, family-friendly, and welcome non-nudists as well.
Platja de la Fregata and Platja de la Ribera – Two beaches close to the church, both relatively large and busy during the summer. La Fregata has a focus on water sports, while La Ribera can act as a spillover of sorts for the gay beach next door.
Platja Sant Sebastià – One of the few beaches east of the church (along with the two nudist beaches), this area is popular with locals and families. It has a nicely developed waterfront with plenty of restaurants and bars.
Platja de les Anquines and Platja de Terramar – The quietest and most isolated of the beaches, located all the way west. Les Anquines is a cove enclosed by rocks and separate from any nearby development, making it particularly attractive and relaxing. Both are good places to get away from the crowds for a few hours, although during peak season you are unlikely to be alone at any beach.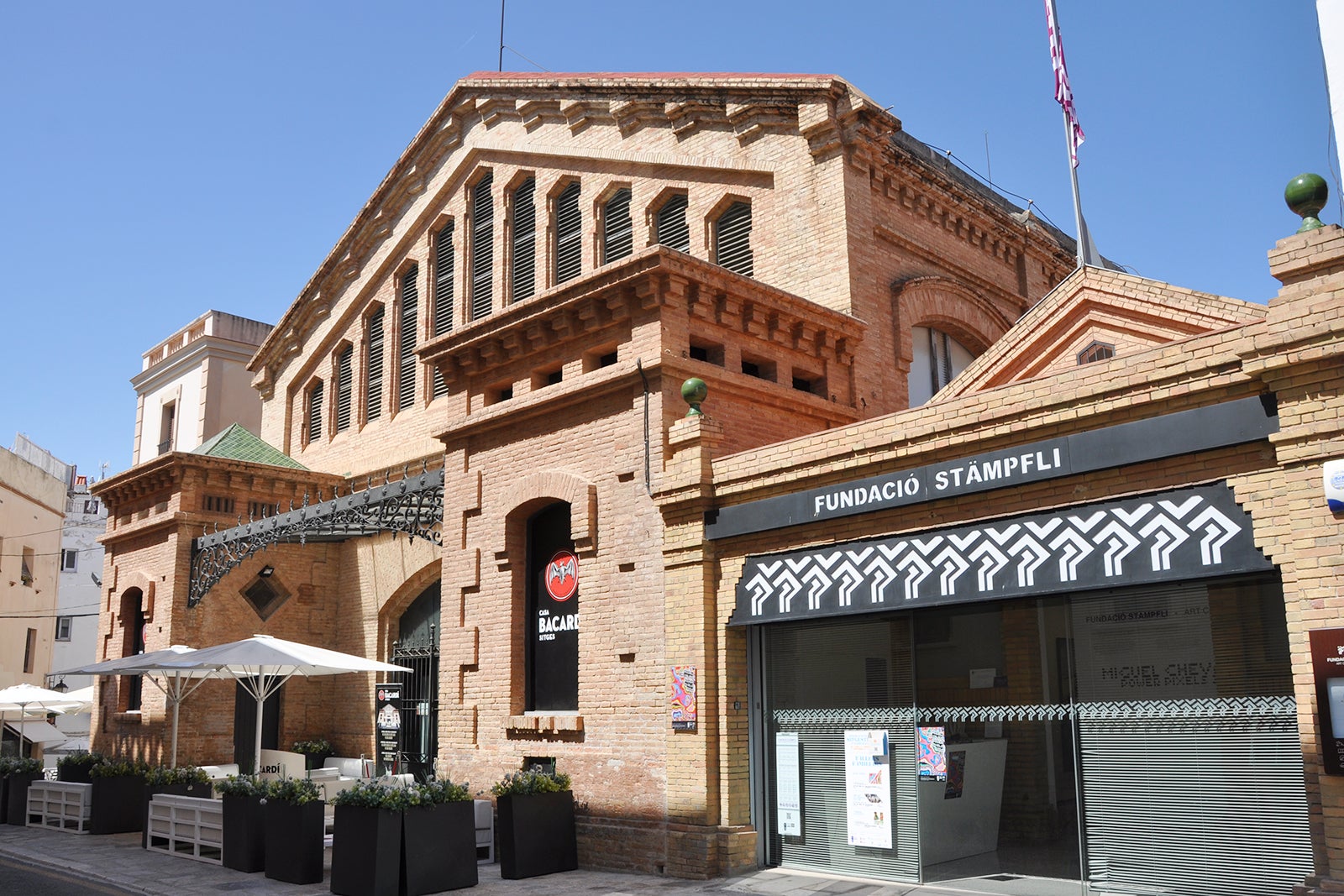 Facebook Comments