Welcome to Copenhagen, strong contender for world's most gay-friendly city. Denmark's capital has a famously liberal and laissez-faire attitude to sexuality, a thriving gay scene, gorgeously picturesque architecture, and some of the world's best design and gastronomy. It's the perfect blend of culture, aesthetic, and fun, with a healthy dose of hedonism thrown in after nightfall.
Denmark was the first country in the world to recognize same-sex partnerships. Gay Copenhagen, its capital is home to the oldest gay bar in Europe and to one of the continent's biggest and best Pride celebrations. The country is proud of its progressive laws and attitudes, and this means that gay travelers never fail to fall in love with the place. Of course, the fact that the locals are almost absurdly attractive also helps.
The bohemian, studenty Latin Quarter and the hipster meatpacking district are filled with gay bars to explore, ranging from low-key beer joints to cool industrial dancefloors and decadent leather cruise clubs. These will keep you entertained during your evenings in Copenhagen, but there's plenty to fill your days as well.
Enjoy the rides at colorful Tivoli, the world's second-oldest amusement park located right in the center of town, or stroll alongside the colorful houses of Nyhavn harbor. Head to Freetown Christiania for a taste of the true hippie life, or take in some fine art in a world-class museum. Pop into unique shops selling the best in Scandi design, then dine on Michelin-starred Nordic cuisine – or munch on a tasty local hot dog if you are on a budget. Then, after hitting the gay bars and clubs, you can rest your head in your impeccably-designed hotel room before starting fresh the next day.
Copenhagen may be one of the world's most pleasant and gay-friendly cities, but it's also known as one of its most expensive. Accommodation in Copenhagen is never going to come cheap, but the good news is that it is also almost universally stylish and high-quality. Vesterbro and the Latin Quater including the neighboring Nyhavn and Radhuspladsen are all excellent places to stay for sightseeing and nightlife.
GAYS AND THE LAW
Copenhagen may very well be the world's most gay-friendly city. Scandinavia is famously progressive, and Denmark's attitudes toward homosexuality have always been far ahead of the curve. Same-sex sexual activity was legalized as early as 1933, and they were the first country in the world to legally recognize same-sex partnerships in 1989. Discrimination on the basis of sexual orientation has been illegal since 1996.
Copenhagen is a city where you can hold hands, kiss, or embrace in the street without any worries. Gay men are fully welcome in straight bars and, with few exceptions, vice-versa. Simply, put this is a city where you don't have to worry about being openly gay.
GETTING TESTED
Denmark has succeeded in limiting the spread of HIV, thanks to a robust healthcare system, mandatory reporting, and comprehensive sex education. That said, you should take the same precautions during your time in Copenhagen than you would anywhere else in the world.
The best place to get an HIV test in Copenhagen is Checkpoint, a clinic right next to the gay area of Studiestraede in the Latin Quarter. Tests are free, quick, and confidential, and the staff speak perfect English (as does everyone in Denmark). They even offer tests outside of regular opening hours if you need it.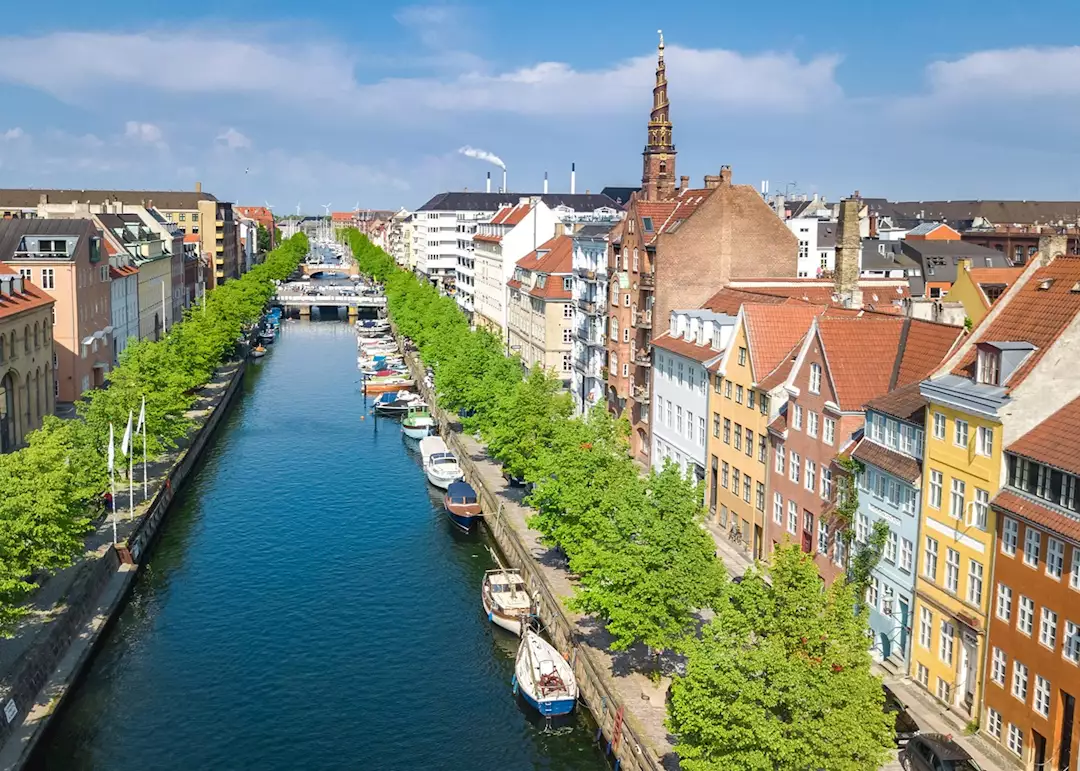 Gay Copenhagen
Copenhagen is an open-minded, liberal city, so gay travelers can have a great night out just about anywhere in town. There are, however, a few neighborhoods with a bigger concentration of gay bars and venues.
The main gayborhood is in the old Latin Quarter, near the city center. This is the oldest part of town and also one of the most picturesque. As a long-standing student area, it has an easygoing, bohemian vibe that perfectly complements the string of gay bars that lines Studiestraede. These include bear bar Kiss Kiss, jail-themed Jailhouse CPH, late-night spot Cosy Bar, and the city's only gay sauna.
A little bit south, near the grand City Hall Square, you'll find a few other great venues, including one of Europe's biggest S&M and leather fetish clubs and Centralhjørnet, the oldest gay bar in Denmark (and one of the oldest in Europe).
Another popular area with gays is Vesterbro and its Meatpacking district, Kødbyen. This was once considered Copenhagen's seediest area (thanks in part to its Red Light District). However, like many former industrial, working-class districts around the world, it has been transformed by gentrification in the past few decades and is now undisputably Copenhagen's hippest neighborhood. In it, you'll find some of the coolest bars, restaurants, and music venues in town, as well as some of the trendiest designer hotels. Gay bars in Vesterbro include Body Bio cruise club and industrial-style club Jolene, which is home to regular gay nights.
Another area worth mentioning is Freetown Christiania, Copenhagen's infamous hippie commune. Mostly known for its "Green Light District" and its liberal attitude to cannabis, it is also a must-see for gay visitors. Christiania is home to The Gay House (Bøssehuset), a queer cultural center that has hosted meetings, exhibitions, plays, and parties for almost five decades.
Spread the loveThe passion for wanderlust transcends boundaries and genders—it is a universal inclination that calls to every individual, irrespective of their sexual orientation. In the realm of backpacking, the quest for liberty, adventure, and cultural immersion knows no divisions. However, for an LGBT backpacker, traveling encompasses considering not only the conventional aspects like affordability…

Spread the loveWelcome to your comprehensive guide to Pride 2023 travel! Pride is more than just a vibrant celebration—it's a vibrant rallying cry for LGBTQ+ rights and visibility across the globe. This guide aims to help you understand the origin and significance of Pride, while preparing you for the anticipated major events of 2023. Unfolding…

Spread the love Welcome to Copenhagen, strong contender for world's most gay-friendly city. Denmark's capital has a famously liberal and laissez-faire attitude to sexuality, a thriving gay scene, gorgeously picturesque architecture, and some of the world's best design and gastronomy. It's the perfect blend of culture, aesthetic, and fun, with a healthy dose of hedonism…
Facebook Comments